Founded by Julian Vereker (1945-2000), Naim has remained one of Europe's most respected audio companies with research and manufacturing in England.  They gained their reputation "PRAT" - Pace, Rhythm, And Timing by focusing on the leading edge of the waveform.  You could always "Jam" with a Naim
Today, under the direction of Roy George, Naim appears to have moved closer to the middle of the sound envelope without giving up the leading edge; without losing the impact, pace and detail or other important elements of music.  Naim's best products seem to communicate music in ways not possible just a few years ago.
Investing in Naim means you will enjoy your system for years without the need to continually tweak, or change equipment.  When it is time to upgrade,  Naim's resale value is about the best in the industry.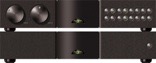 THE FOLLOWING NAIM PRODUCTS ARE ON DEMO AT WELLINGTON AUDIO - WITH A FEW EXCEPTIONS WE  HANDLE NAIM'S ENTIRE LINE.
CD PLAYERS
INTEGRATED AMPLIFIERS
    NAIT 5i-2

    NAIT SX

    SUPERNAIT

PREAMPLIERS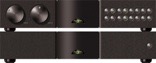 NAC 112x
    NAC 202

    NAC 282

    NAC 552

    Stageline Phono

    Superline Phono 

POWER AMPLIFIERS
    NAP 150X

    NAP 200

    NAP 250

    NAP 500
POWER SUPPLIES

SPEAKERS
 Allae     SALE !!!

 Intro 2  SALE !!!